Did you pay for an online course and never finish it? You aren't alone.
Today's blog post will cover some of the findings that validated the opportunity to build SkillMapper. For instance, did you know that 18% of online students never finish a course because the teacher or course weren't as good as promised?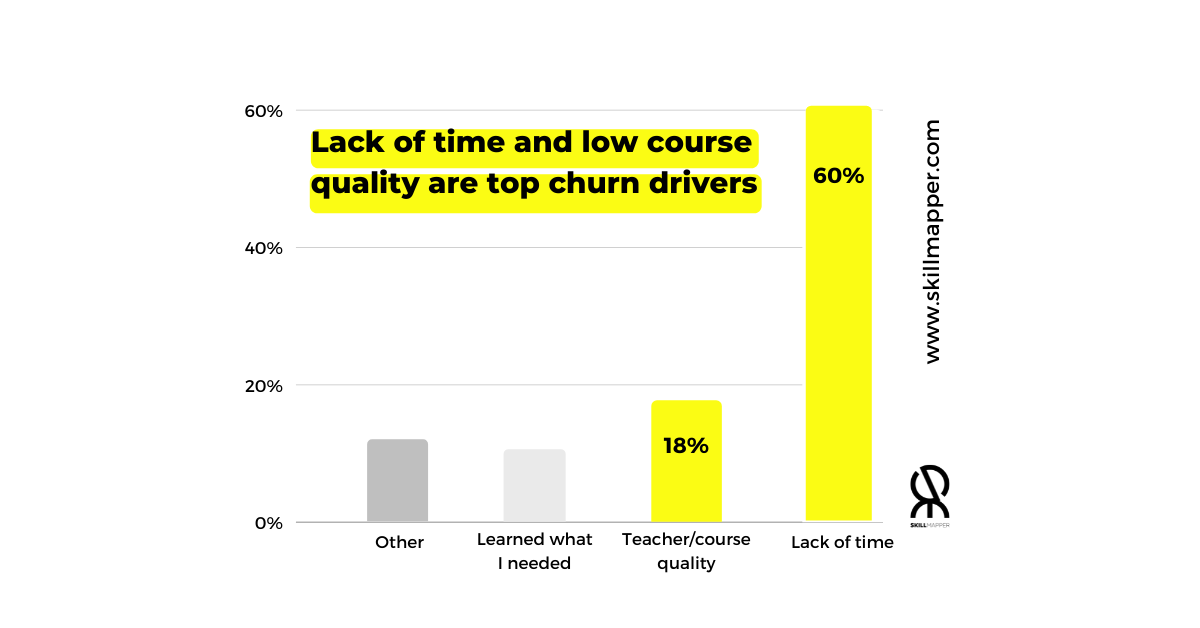 Most probably the answer is yes. And to be fair, you might not be the one to be blamed for it. In fact, in a research that took place in early 2021, we found that ⅕ of students don't finish courses because these weren't as good as they promised. In addition to this, we found that the average user of online education studies in more than one ed-tech and prefers to cherry pick courses instead of committing to 'all-you-can-eat' models. However, we also know that students fall for last minute offers on yearly subscriptions or 2×1 sales for online education they will never even open. Fun fact, you might even get most of them for free on YouTube. As a result, we reckon that the system is broken, and there is a big opportunity to fix it.
In this regard, SkillMapper presents itself as a learning hub that leverages AI to empower students in their online educational journey towards obtaining their dream job in the most efficient way. SkillMapper's existence responds to the misuse of time and money that the average student can incur by searching or taking online courses.

These are some of the findings that validated the opportunity to build SkillMapper. For instance, did you know that 18% of online students never finish a course because the teacher or course wasn't as good as promised?
Very likely, you didn't. Now you might wonder, how is that possible? Aren't review systems supposed to prevent people from making bad choices? I mean, they're as old as the internet. Well, review systems are non-existent across all online educational platforms (I.e., EDx). And, where they exist, they are highly biased towards a positive sentiment. For instance, the average rating of Coursera's entire catalog (4K+ courses) is 4.7/5. Moreover, 60% of their catalog is above 4.6 stars.

Arguably, the main reason for this distortion is simply because platforms like Coursera wouldn't allow students to leave a review before completion of the course (until not so long), thus likely creating survival bias in the review samples.
Also, from a practical point of view, few students have the time to go through exhaustive lists of reviews to find the negative ones calling out the quality of the teacher, content, or learning schedule. Therefore, it's likely that students take uninformed decisions simply because of a lack of rightful information.
In the search for efficiency and transparency in online education, SkillMapper's first line of products (Search Engine and Chrome Extension) emphasise the accessibility of useful information (e.g., AI summarised reviews and alternative courses) at the forefront of the experience. Ultimately, building the tooling that will guide students to choose the most suitable online courses and educational resources.

Moreover, new advances in the NLP field and access to cheap computational power will slowly but steadily allow us to craft personalised learning graphs that combine multimodal educational resources (i.e., books, online courses, podcasts, youtube, etc.) in personal and collaborative journeys.
Now, first things first. To build SkillMapper, we needed to understand our target audience better. So, what else do we know about students pursuing online education on popular websites such as Coursera or Udemy? To better understand students, early in 2021, we conducted market research in partnership with NCA, a consulting firm based in Lima (Peru).

This research allowed us to understand the habits and behaviors of online students while facilitating the building of our first set of solutions. Though a total of 214 people took the online survey, we are only focusing on the findings of the 184 students who had taken an online course or were taking one at the time (86% of the sample).
In the following lines, we will only cover some of the most relevant findings.
A small caveat. Although the research only considered Latin American students, we expect that many of these findings and their implications can be also extrapolated to other regions where online education and ed-tech have gained steam such as North America, and Southeast Asia, just to name a few.
Survey Findings
The survey started by asking students about the reasons why they decide to take online courses. Later on, it digs deeper into some of their attitudes towards online education.
When asking them to report on "motivations for starting an online course," we found out that curiosity to learn about a specific subject (38%) and the need to complement their career (34%) dominated the responses (see graph 2).

Now, if we focus on students enrolling in online courses and never finishing them, (behavior that appears in +90% of the cases, Khalil and Ebner, 2014), we found out that the most significant percentage of students (60%) blame the lack of time as the primary driver of churn. Most interestingly, 18% of the students stopped studying because the teacher or the course wasn't as good as promised.

Ideally, these insights should be provided by transparent, accessible, and unbiased review systems. Unfortunately, this is a non-existent reality in the status quo of ed-tech. Therefore, highlights another strong reason for the need for a neutral and accessible platform where students can leave reviews at any point of their student journey.

Three additional findings allowed us to understand the profile of online students today:
A high investment of time and effort to find the best online education
The multi-platform nature of online students
Student's reluctance to enroll in 'all-you-can-eat models'
The first one was related to the time students spent in finding online education that meets their expectations. As you can see from the graph below, 33% of the students take hours to find the ideal course, and 27% take between days and weeks to pull the trigger.

When digging more profoundly in the qualitative research section, many of the students pointed out that they were overwhelmed by the number of courses and ads they found when searching in places such as Google or Bing, the default entry points for 30% of students. Again, it isn't surprising that 14% of students will even take weeks to make a choice.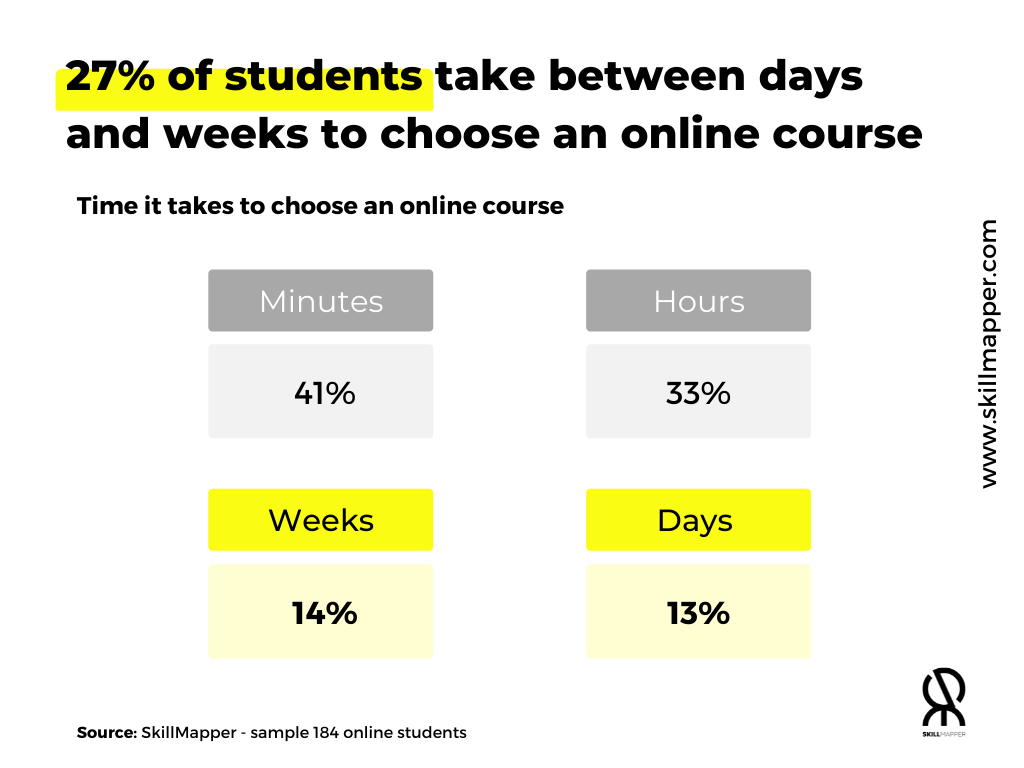 The second one is related to the number of ed-tech platforms the average student uses, 46% of the students are users of more than one platform. Thus, we infer that the average online student is more prone to cherry-pick the best courses regardless of where the content lives. This supports the idea that the best education is disseminated across multiple platforms. Ergo, no single provider could host the best content for every single field (e.g. computer science, design, data science, user experience).


This brings us to the third finding, which reinforces the latter assumption: Very few students like 'all-you-can-eat' models. As you can see from graph 6, only 12% of students prefer subscription-based models, which certainly work for entertainment services such as Netflix or Spotify where consumption is rather light, but mostly fails in education and gym memberships.

This business model is not as beneficial for the average user of ed-tech, given that committing to complete a course takes time, effort, and great doses of self-motivation. That being said, you will still find ed-tech platforms aggressively pushing for significant discounts in 'yearly subscription,' in spite of this being the segment that on average benefits the least (lowest ROI) and churns the most.

Bonus finding: LATAM is known for the so-called 'Bueno Bonito y Barato' (Spanish for High-quality, Good Looking, and Cheap) attributes of the ideal product or service. Thus, it isn't surprising that students ranked 'benefits,' 'price,' and 'institution' as the main drivers of purchasing decisions.

Whereas price and institutions are attributes that we objectively assess ex-ante, utility, or benefits, which is a proxy for quality, we can only evaluate them after a student takes a course and leaves a review. However, these reviews live in centralised and tightly controlled review systems that have proven somewhat skewed and even missing top ed-tech providers. But there is hope, as SkillMapper is tackling this problem by bringing transparent and transversal review systems across that aim to benefit the whole ecosystem.

Hopefully, you found out more about the habits and preferences of online student in LATAM and the reasons driving us to build this meaningful and exciting project. Behind it, a global team of Mappers who are working hard on building solutions to improve online students' learning journey, from search to exploration, without neglecting community building.

Because like many of you, at SkillMapper we are a group of self-learners and geeks who have studied over 100 courses among all the top ed-tech platforms, from Introduction to User Experience to Architecting with Google Kubernetes Engine, and everything in between. We are on a mission to build the learning tools we wish we would have had when we first started our online learning journeys.
Are you curious to know how this idea came about? What motivated it and what has been the process of building our start-up? Learn more about our background and smart solutions in the upcoming posts.